Caraday Healthcare's innovative telemedicine solution, free to our providers.
Proactive providers are responding to the COVID-19 pandemic with innovation and diligence during this public health crisis. As regulations that formerly restricted Medicare billing for telemedicine have been waived, the path is cleared to leverage this technology and reach out—to senior groups in particular—and provide safe, comprehensive care.
We have implemented a free, accessible solution for virtual health management. Caraday Virtual Care is a rapidly scalable, secure, and easy-to-use telehealth service available to all providers who wish to continue providing care to patients in our communities.
The service is open to all care providers including physicians, specialists, therapists, social workers, and others whose services are needed by our residents in their care. 
Caraday Virtual Care: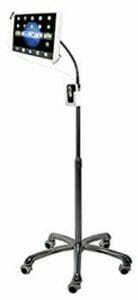 Mobile telehealth stations are deployed at all Caraday communities.  

The system is free, easy to use, and works with any device you may have (smart phone, tablet, PC, laptop)

Online booking/scheduling portal to coordinate times for virtual consults – book visits ad hoc or schedule up to a year in advance

An onsite Caraday team member will facilitate the video meeting with the patient using equipment similar to the image pictured to the right. 
Once You Sign Up:
You will receive a simple startup guide.  

Our healthcare technology team is experienced in virtual care deployments and support and will be available to you as resources allow. 

We will continue to build on our Virtual Care capabilities.  
Technology
Caraday Healthcare will utilize secure solutions based on the Microsoft Office 365 Platform for Healthcare Providers. 

The system leverages Microsoft Teams, a highly scalable and rapidly deployable solution that is utilized by enterprises around the globe – it is one of the most commonly used tools in healthcare.  

Caraday has also established a specific support group for virtual-care-related consultations focusing on required implementation and training.
Background
Caraday Healthcare is rooted in its founding principles of delivering compassionate, patient-centered, and data-driven care that is led by experts in population health management of frail and vulnerable populations. Caraday Virtual Care draws on the founders' experience in providing physician services through virtual care modalities, including telemedicine.